The CityBreeze
GREEN meets SCREEN
Our mission is clear: clean & fresh air for all city residents. To achieve this, we focus first and foremost on solutions with an immediate effect. We want better air now! And we start where as many people as possible benefit from it. However, the city is a very tightly meshed and planning-intensive space, so that rapid change and immediate impact are countered by little usable space and long decision-making paths. CityBreeze takes up this challenge.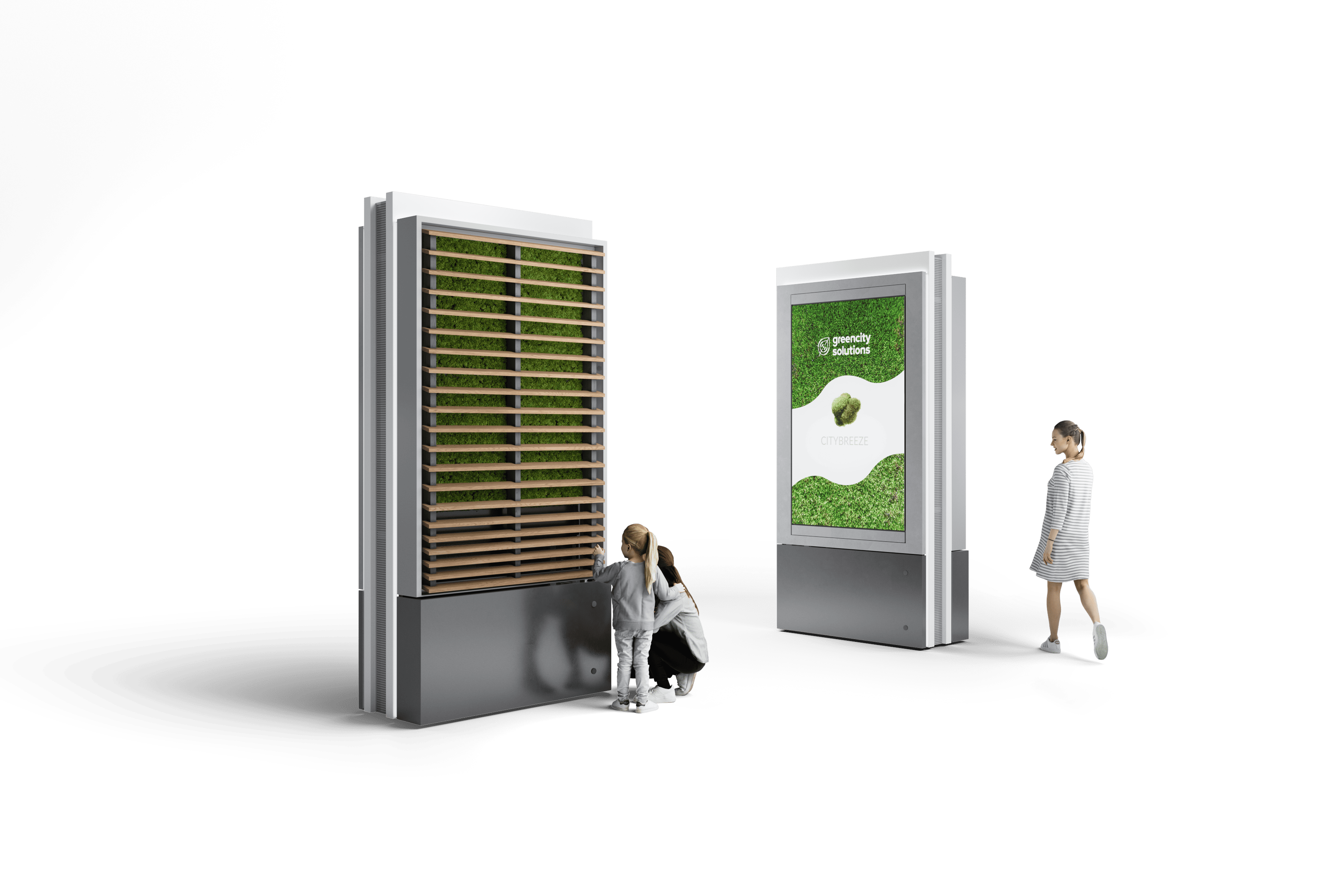 On one side of the CityBreeze is a green, vitalising moss wall and on the other a 75 inch LCD screen. The slim design creates a variety of use cases. The integration of state-of-the-art small cell and metering technology, the LCD screen in the ideal media format and the fresh, moss-cleaned breeze make the CityBreeze an essential element for the expansion of the smart and green city. And: the first OOH column, which cools down instead of heating up.
A FRESH BREEZE,
WHERE YOU HARDLY EXPECT IT
Through the targeted use of our active mosses, we take up existing infrastructures and renew them in an environmentally friendly way. Especially in combination with services such as external communication, rapid refinancing is possible. In this way, we combine ecology and economy and generate an immediate and sustainable improvement in air quality in cities.
Peter Sänger, CEO of Green City Solutions
LEARN MORE
WHAT THE CITYBREEZE CAN DO
Vitalising moss with smart watering and ventilation technology for optimal air purification

Air quality sensor measures filter performance and environmental data displayed in AirCare in real time

Slim design for flexible installation in urban areas

75 inch LED screen for razor-sharp images even in direct sunlight

Sensor and radio technology are designed to be multifunctional and offer space for integration of smart city technology

Lighting design for extended radiance and ideal integration into the urban space
Vitalising moss with smart watering and ventilation technology for optimal air purification

Air quality sensor measures filter performance and environmental data displayed in AirCare in real time

Slim design for flexible installation in urban areas

75 inch LCD screen for razor-sharp images even in direct sunlight

Sensor and radio technology are designed to be multifunctional and offer space for integration of smart city technology

Lighting design for extended radiance and ideal integration into the urban space
SCREEN: Powerful communication
Make cities smarter
"Our goal at Telekom is to make cities smarter. We believe that CityBreeze has the potential to support us in this mission, as it not only ensures sustainability, but also more digital touchpoints in cities. For us, it is also particularly exciting that we have the option to add network technologies to the CityBreeze and thus participate in the expansion of the digital infrastructure."
Christiane Langhammer , Product Manager of Deutsche Telekom's Smart City Unit
Example: 1 year in Berlin
In one year, the CityBreeze can clean 12 million cubic metres of air. This volume corresponds to:
180 grams of fine dust
particles are filtered out. This corresponds to the pollutant of:
Project example:
1 year in Berlin
In one year, the CityBreeze can clean 12 million cubic metres of air. This volume corresponds to:
180 grams of fine dust
particles are filtered out. This corresponds to the pollutant of: