Christmas days in the Müggelpark Gosen – with a lot of fresh air!

 
Since November, two CityBreezes are welcoming you to the "Shopping Center just outside Berlin" and providing a fresh breeze where you wouldn't expect it!
The reason for the installation are a strong heat development and problems with the air quality inside the shopping center, especially in the summer months, due to the glass roof. That's why you can currently find a CityBreeze in front of the Real supermarket and another moss filter with an included bench in front of the test station. The operator of the special DOOH steles is Gallus REAL ESTATE GmbH from Leipzig. Further locations are planned – stay tuned!
The "Müggelpark" in Gosen was opened in autumn 1994 and invites you "beyond the hustle and bustle of the big city" with about 40 shops and service providers "to stroll and shop and look forward to [your] visit!" The shopping mall "belongs to the Brandenburg district of Oder-Spree and is surrounded by idyllic forest, lake and nature reserves".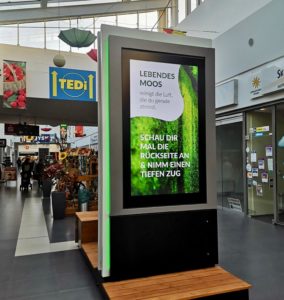 We are looking for high-traffic locations, such as in a mall, supermarket car park or busy square. We are eager to hear your proposal at "Green Meets Screen"!