For a better urban climate!
Air quality is an important issue, especially in urban cores. As a start of the joint pilot project of Green City Solutions GmbH and the nationwide real estate developer
CG Elementum AG
, the handover of two digital advertising steles with integrated moss air filter took place today in the west of Leipzig, which is characterized by industrial culture.
The stelae are being used for the first time in outdoor landscaping, thereby ensuring a better urban climate and thus complementing the sustainability concept of CG Elementum's large-scale Plagwitzer Höfe neighborhood.
Ulf Graichen, CEO and CDO of CG Elementum, said at the handover: "For us, sustainability also means rethinking neighborhood development. For us, the focus is on the holistic development of modern neighborhoods that help to improve the carbon footprint through the use of green technology. At the same time, they should be places where people feel completely at home. With CityBreeze, we have today added a building block in the further development of the Plagwitzer Höfe that has a positive impact on the climate."
As part of the pilot project, a total of ten CityBreeze steles are to be installed in the Plagwitzer Höfe by the end of 2024. After the test phase, CityBreeze has the potential to be integrated in other CG Elementum neighborhoods to become a sustainable component in the real estate developer's projects.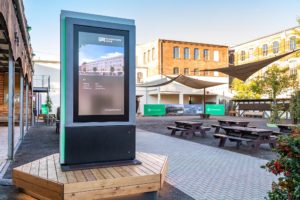 Our mission is clear: clean & fresh air for all city residents.
To achieve this, we focus first and foremost on solutions with an immediate effect. We want better air now! And we start where as many people as possible benefit from it. However, the city is a very tightly meshed and planning-intensive space, so that rapid change and immediate impact are countered by little usable space and long decision-making paths. CityBreeze takes up this challenge.
On one side of the CityBreeze is a green, vitalising moss wall and on the other a 75 inch LCD screen.
The stelae with integrated CO2/air particle filter made of moss compensate up to 91 kg CO2 per stele annually and reduce fine dust by up to 82%. They also humidify and cool the environment by up to 4 degrees Celsius. Especially in hot summers, this helps improve the climate and increase the overall feel-good factor. In addition to the 75-inch screen, the digital advertising media have hexagonal benches and thus also function as resting and meeting points in the neighborhood.