The CityTree as part of the "Fair.Kiez" project
On Friday, we inaugurated the very first CityTree in a public space in Berlin together with the district mayor Clara Herrmann. Positioned gracefully on the Admiral Bridge in Friedrichshain-Kreuzberg, the moss filter provides up to 5,000m3 of fresh air every hour right in the heart of Berlin. Air filtering is not the only function, however: as the German news magazine Tagesschau reported, the CityTree was combined with noise measuring technology for the first time.
The event was opened on 28.07.2023 on the Admiral Bridge by the district mayor Clara Hermann.

Photo: GCS
The overarching objective is for the CityTree to become a beacon of awareness during twilight and nocturnal hours from 10 PM to 4 AM. This mission aims to mitigate noise levels by captivating attention through vivid display information and illuminating signals. The noise monitor's crimson glow comes to life when sound levels breach the 55 dB threshold, sustaining its illumination for over 10 minutes. This visual prompt not only sensitizes individuals to the issue of noise pollution but also encourages them to dial down their decibels and respect the peaceful repose of the community's nighttime hours. 
The necessity for regulated noise levels is grounded in the bustling ambiance of the Admiral Bridge, particularly during the night time. As a vital conduit connecting Fraenkelufer and Planufer along the serene Landwehr Canal, this iconic bridge assumes the role of a popular rendezvous, particularly in the summer (Berlin.de). The Friedrichshain-Kreuzberg district, driven by an unyielding commitment to enhancing residents' quality of life, embraces these innovative strides (Berlin.de).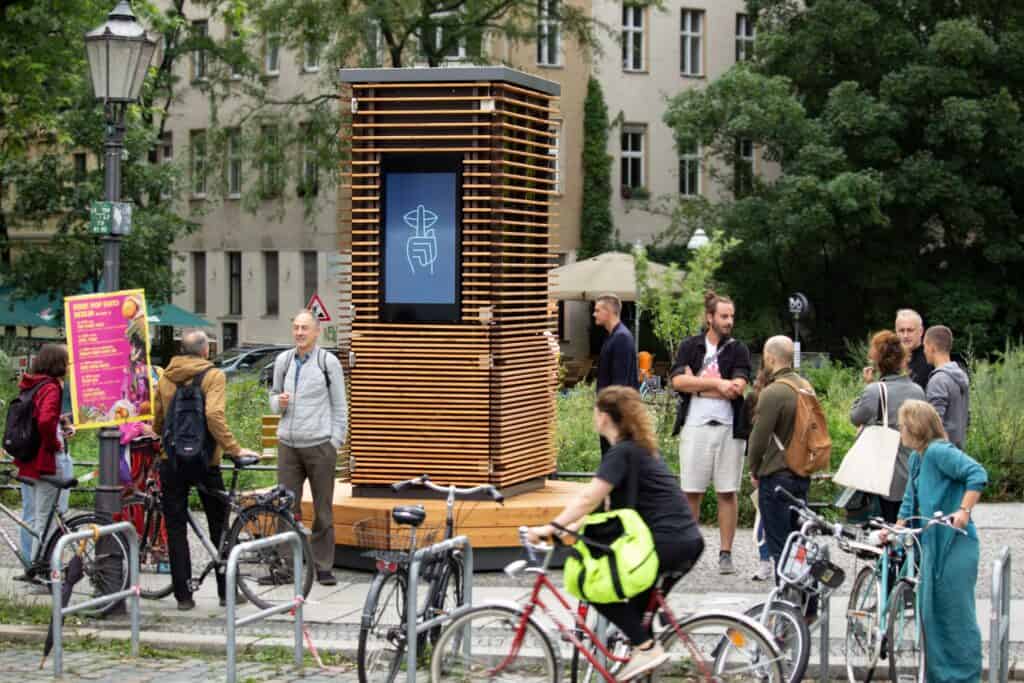 Enhancing its noise-alert capabilities, the CityTree demonstrates its environmental strength by efficiently filtering significant amounts of fine particulate matter from the air.  It captures up to 82% of the fine dust in the immediate vicinity and simultaneously cools the air by up to 4° Celsius. This outcome is comparable to 67 young trees, which can generate fresh breathing air for about 10,000 people every hour, as shared by District mayor Herrmann (Fairkiez.Berlin).  
Amidst these eco-friendly efforts, the Friedrichshain-Kreuzberg district stands out as a strong supporter against noise pollution. It also plays a key role in promoting sustainable, city-friendly tourism—a clear statement that echoes throughout this lively city (Fairkiez.Berlin).