"Sustainable Inner Cities and Centres": the CityTree in Calw
"The most beautiful city of all that I know is Calw on the Nagold, a small, old, Swabian town in the Black Forest."
These words, penned by Hermann Hesse, evoke the essence of Calw — a town that exudes charm and charisma.
Calw is more than just a "charming little town": It is a treasury of cultural history, beckoning visitors as the gateway to the captivating Black Forest. And now, it offers a breath of fresh air, quite literally, courtesy of the CityTree.
The Mayor of Calw, Florian Kling, commented on this:
"It's finally here! Hot and sunny days have become more bearable in Calw's bustling marketplace."
The "new CityTree provides air purification and a fresh breeze in the seating area with fresh moss. Throughsmart irrigation, the surroundings noticeably cools down, while the moss concurrently acts as an air filter, removing exhaust fumes, fine dust and CO₂ from the atmosphere" (source).
In the city of Calw, our regenerative moss filter has been expanded with additional greenery, thus becoming a component for increasing urban biodiversity. To further enhance the overall experience, the installation of a drinking water fountain and an "upcoming green concept" for the "area towards the marketplace" are underway.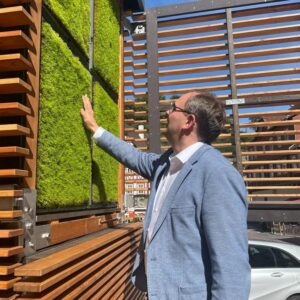 Thus, Calw's Mayor wishes everyone "a lot of fun trying out the urban amenity and relaxing in this new place" amidst cooler and cleaner air.
We express our appreciation, alongside others, for the outstanding execution and meticulous planning, which can be attributed to Mr. Vogel, ENCW (Municipal Construction and Maintenance Department), Justin's Design, and Green City Solutions.
His grattitude – and we express our appreciation, too –  goes to the "excellent execution and planning" by Mr. Vogel, ENCW, the Construction Operations Department, Justin's Design, and Green City Solutions.
The regenerative moss filter finds itself in the company of a town steeped in "rich culture and abundant nature". Today, Calw, nestled in the heart of the Black Forest and known for its Hesse heritage and charming half-timbered architecture, stands as an alluring city offering a high quality of life, drawing in an increasing number of visitors, whether they seek a brief escape or a permanent haven (source).
The state "Urban Development Support programme" of the Federal Ministry for Housing, Urban Development, and Building supports "selected cities and communities in the demanding task of developing or maintaining attractive, future-proof centers". Because it is of particular relevance to "strengthen centers as multifunctional locations, as social, working, and leisure spaces, with offerings for housing, working, meeting, education, care, culture, logistics, gastronomy, and trade". In this context, "variously publicly usable green spaces, parks, water and open spaces, high architectural qualities, and exciting architecture are important so that people continue to visit their urban spaces and enjoy spending time there." (source)