The event and trade fair season has finally picked up speed again after the pandemic subsided and the new possibilities offered by less stricter regulations. Offenbach, Amsterdam, Bonn and Hamburg, our biofilters CityTree and CityBreeze (and the demonstrator "Wizard of Moss") have been around quite a bit in the last two months.
Impact Festival
The Impact Festival is Europe's largest B2B event for sustainable technologies. The most important facts: 2,100 participants from 20 countries, 130 exhibitors, 68 speakers and 48 master classes. At the main international hybrid event, our CityBreeze stood prominently placed in front of the entrance to a workshop lecture room, welcoming the spinning heads with a fresh breeze. The CityTree stood directly next to the shuttle point and refreshed the waiting time and also displayed on the screen when the next shuttle will arrive.
Local Branding Day
The 7th local branding day took place in September at the Hotel Kameha Grand in Bonn. Here, the most exciting cases of big brands were presented. A special exhibitor: Planus Media. The specialist agency for out-of-home used the 75″ display of the CityBreeze as a presentation tool and, with the moss filter on the back, showed the new state-of-the-art of green outdoor advertising. At the same time the CityBreeze ensured that visitors and the Planus Media booth team communicated in the best possible air.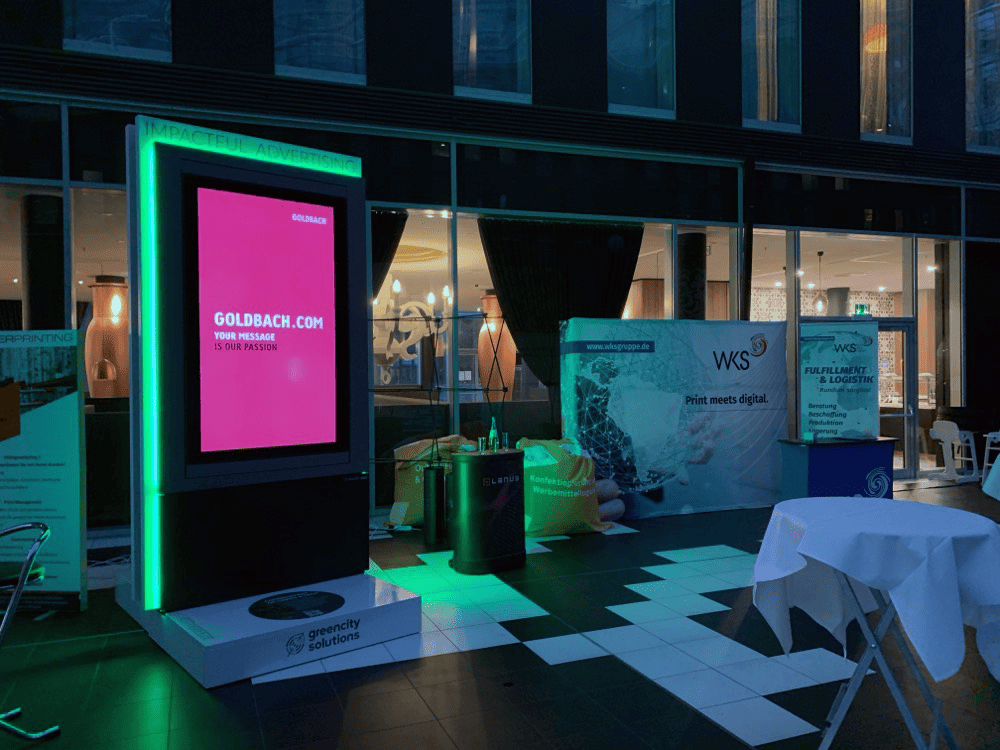 World Passenger Festival
The World Passenger Festival in Amsterdam brought together transport leaders to discuss the technologies, strategies and opportunities that can encourage a shift back to the use of public and shared transport. Felix, Max and the "Wizard of Moss" demonstrator took the opportunity to show why natural solutions work the best.
ITS Hamburg
ITS Europe and the Federal Ministry of Transport of Germany hosted the 27th ITS World Congress – the international industry platform for intelligent mobility and networked transport. The CityTree was an integral part of Hall B2. In the middle of the lounge, visitors and exhibitors used the CityTree to hold meetings over coffee or a cold drink, to talk to mobility pioneers or simply to take a break in the best air.