The CityTree in an industrial environment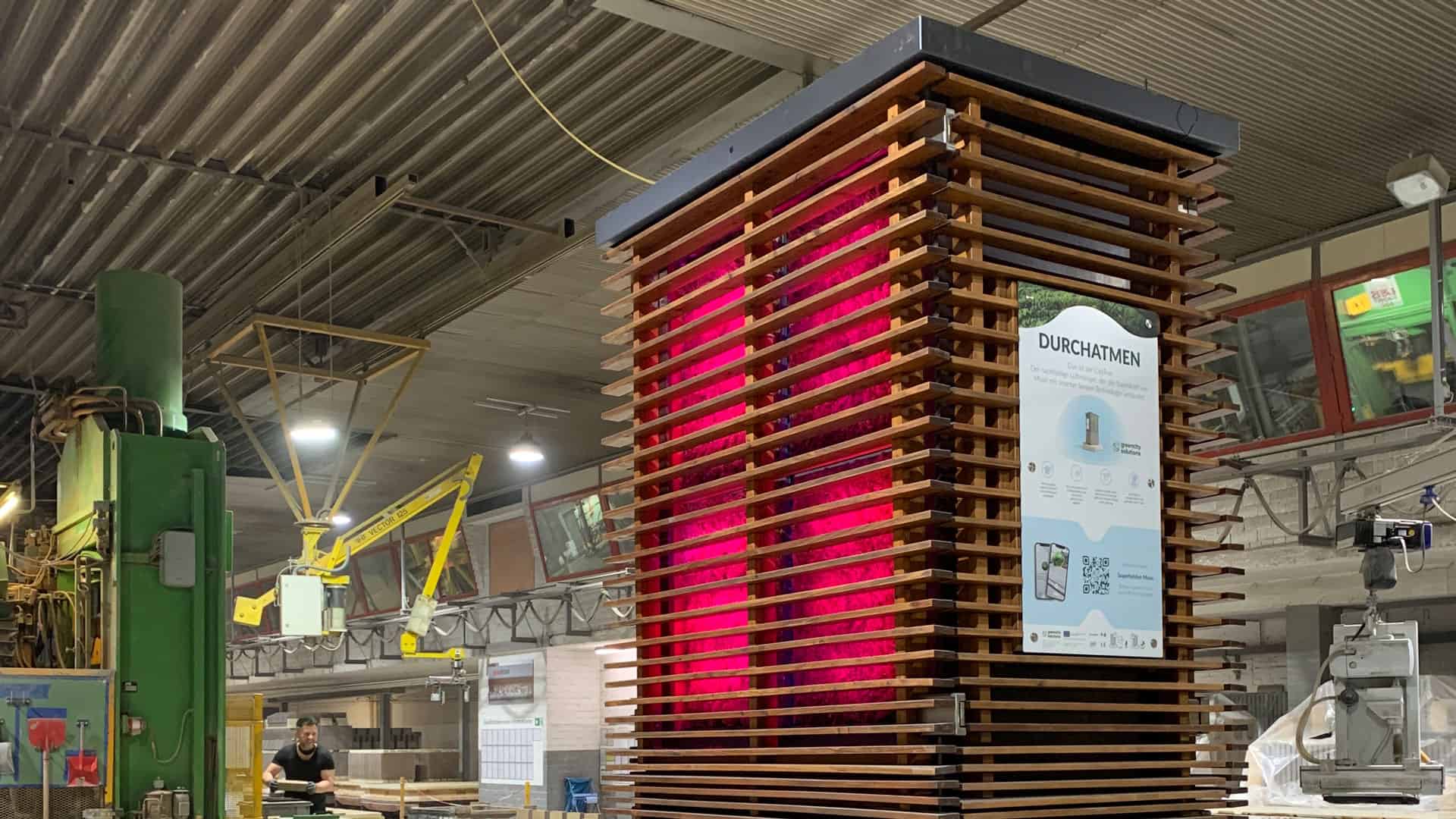 Since the beginning of September 2021, our CityTree has been tested in an industrial environment for the first time. In the production hall of the manufacturer Refratechnik Ceramics, it stood until recently near the tunnel kiln, where air pollution was strongly felt. Thanks to the special air quality sensor technology, we can also measure and display the special benefits and performance of the CityTree.
The air in the hall is completely recirculated and filtered every day
After an initial constant air circulation, the daily schedule was adapted to work days and weekends, with more air being filtered during working hours than on days off. Every day, an air volume of over 30,000 m³ can thus be purified. This means that the air in the hall with an area of 6,000 m² is completely circulated and filtered once a day.
In order to find the ideal location for the CityTree and to expand our knowledge about air quality, the moss filter has now been moved to another location. This will allow us to test the CityTree here as well, under different conditions and with different heat exposure. We are looking forward to the next results and thank Refratechnik Ceramics GmbH for the trustful project partnership.
You can read more about the installation in summer 2021 in the blog post "The first Indus-Tree".
Statement Refratechnik Ceramics GmbH
"In our company refractory systems for industrial furnaces are produced. During the processing of fireclay, a high fine dust load is characteristic and unfortunately not completely avoidable. In the area of the large furnaces it is also quite warm, especially in summer. In order to reduce the fine dust pollution and at the same time lower the ambient temperature, the CityTree was newly installed as a pilot project in our kiln plant in September 2021. The employees were delighted with the noticeably better air and the cooling effect of the CityTree. Employees were happy to use the bench around the CityTree during their breaks. After the successful test phase in the furnace operation, the CityTree was moved to the neighboring department in January 2022, where huge hydraulic presses dominate the work area. Here, too, impressive fine dust relief and a pleasant cooling effect were noticed."