A captivating fusion:

An Unforgettable Experience with a Breath of Fresh Air
"Liebenswert. Lebendig." – These are the words that define "Das Marquardt," a place celebrated for its commitment to individuality and vibrancy. With its unique charm, this urban palace seamlessly weaves together tradition and contemporary living, offering a delightful blend of shopping and cultural indulgence (Source). The "Stuttgarter Traditionshaus" beautifully harmonizes historical architectural elements with modern design, giving rise to a captivating shopping and experiential hub. Here, nostalgia and modernity effortlessly coexist, crafting an atmosphere that beckons you to linger and savor every moment (Source).
An atmosphere that invites you to linger? Nostalgia and modernity? What could be more nostalgic and simultaneously modern than the world's oldest plant paired with cutting-edge biotechnology? In this setting, both crisp, clean air and fresh information are naturally essential. We are thrilled to announce that one of our CityBreeze units will now enhance the shopping and cinema experience in the GLORIA Passage.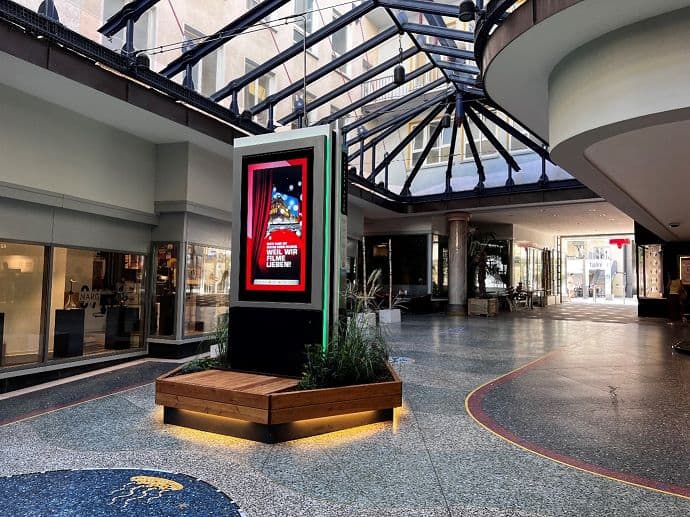 The passage seamlessly weaves "through the heart of the building" and provides accessibility from the bustling shopping streets of Königstraße, Bolzstraße, and Stephanstraße (Source). Inside this passage, you'll discover more than just shops; it houses the foyer of the Gloria Cinema, which stands as one of Stuttgart's largest and most contemporary cinemas.
Nestled between the main train station and the castle, an intelligent biotech filter was ingeniously installed here in September, perched atop a verdant hexagonal base. This groundbreaking installation marks the first DOOH (Digital Out of Home) column designed to cool its surroundings rather than add to their heat, making a significant contribution to the local biodiversity and aligning with Green City Solutions' mission to "enhance the local urban climate."
In addition to the integrated and actively ventilated moss modules, the CityBreeze unit boasts a prominent 75-inch LCD screen. In Stuttgart, this screen serves not only our valued customers and tenants but is also managed by climAD and our trusted marketing partner. Hence, the installation in the GLORIA Passage proudly stands as Baden-Württemberg's inaugural advertising location.
On this screen, you'll find more than just general information; it provides the latest updates on cinema news because the "downtown cinemas offer top-tier cinematic experiences" (Source).
"Shopping, experiencing, and conducting business – all converge under one roof at Marquardt." And now, an unexpected delight awaits—a breath of fresh air where you least expect it.
Photos: GCS, Margarete Söhner
Here, a piece of history intertwines with modernity: "Following World War II, Eugen Mertz undertook the monumental task of resurrecting the war-ravaged Hotel Marquardt at Schlossplatz. In 1947, he unveiled a multifunctional complex, complete with dining establishments and a cinema, laying the foundation for the downtown cinemas we know today" (Source).